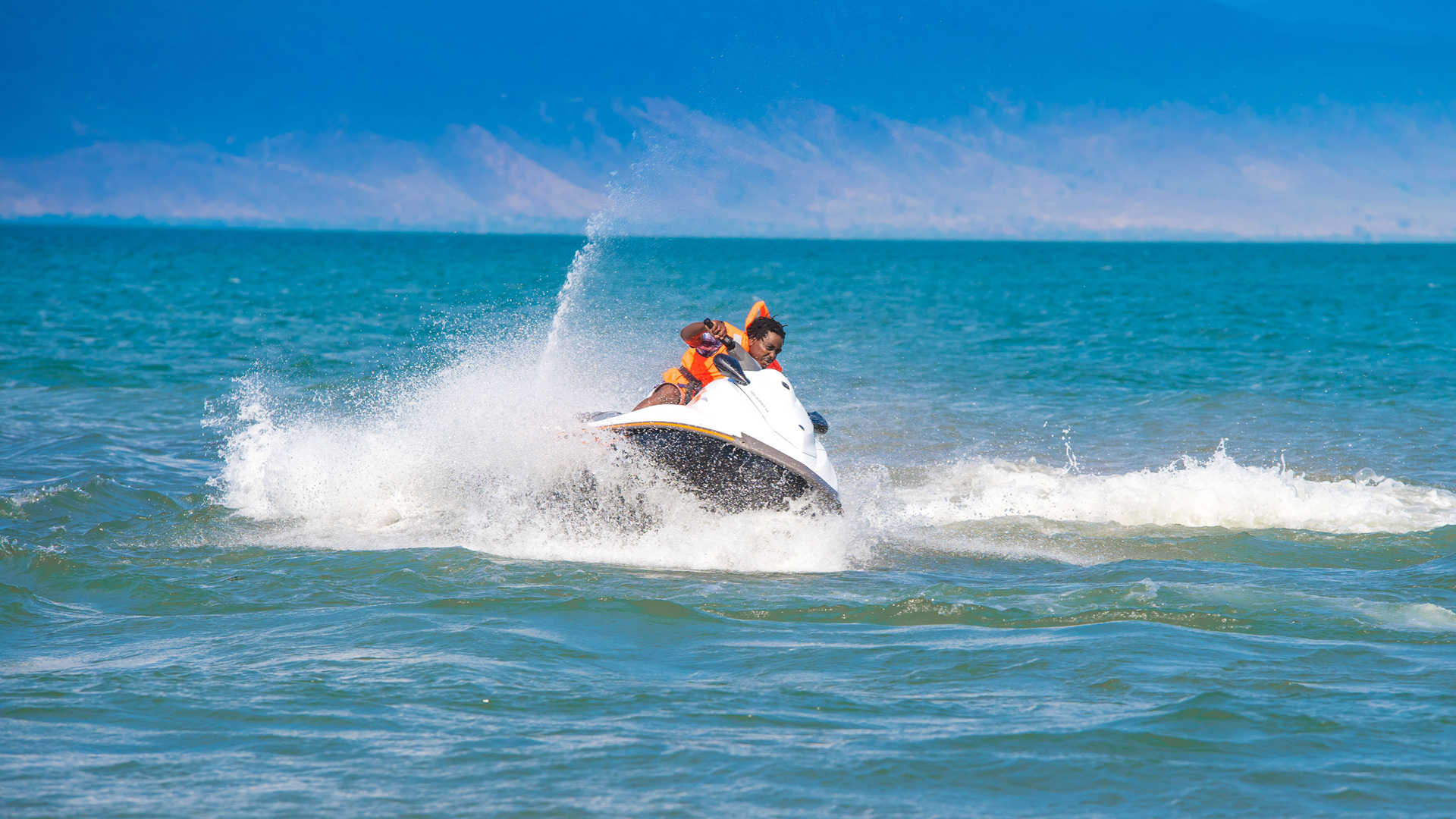 Water sports
Lake Malawi, an inland sea, provides the opportunity for almost any water sport you care to think of. The lake's size, its warm freshwater and its beautiful surrounding beaches make it a Mecca for those seeking an all-year round location to swim, scuba dive and snorkel, water-ski, sail, kayak, parasail or simply potter about in boats. The salt-free water is a bonus.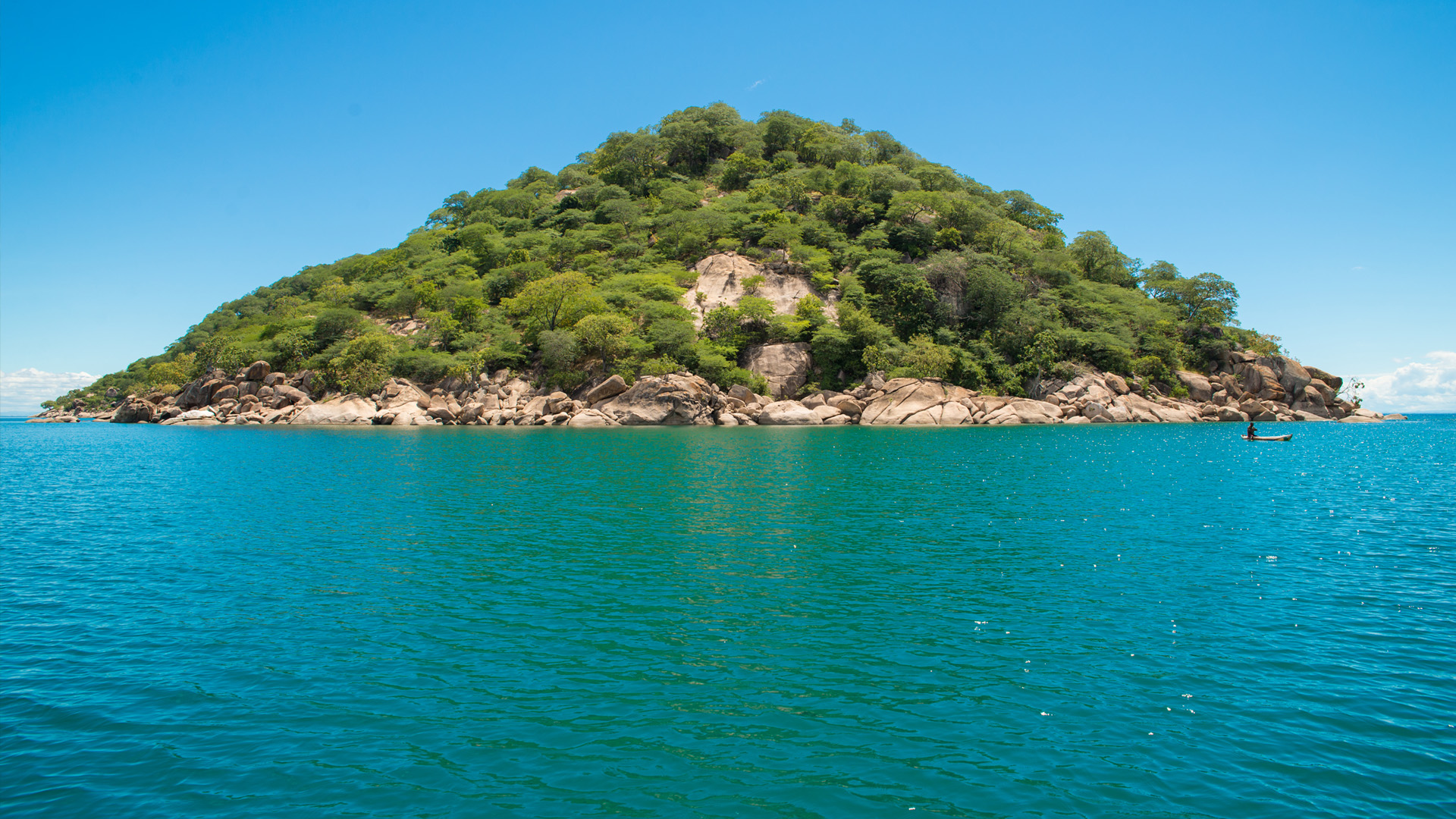 Although Malawi is not blessed with an abundance of sporting venues, many of the hotels and lodges do offer some well-maintained facilities for those seeking more energetic activities. Tennis, squash, volleyball and football are on offer around the country, with courts and pitches found at the lakeshore in the city centres and even in the highlands. There are also a few golf courses dotted around the country, mainly in the largest cities.
Due to the absence of tides and currents, Lake Malawi allows for safe swimming and diving as well as catering and other water sports.
Lake Malawi brings to mind a rich abundance of culture and nature merging as a single entity, and reality does not disappoint. The scintillating view that greets every corner of the lake is only complemented by the over-hanging palm trees and wild avocado groves that cascade along the blue, tranquil waters of Africa's second deepest lake., the southerly lake also boasts the title of the world's ninth largest body of water, but its placid nature and kaleidoscope of aquatic life give no hint to this fact.
The exquisite scenery that drapes over every sense gives way to an abundance of water-sport activities available, and from coral snorkelling to jet-ski adventures, the only choice you'll ever be burdened with is 'what to do first?' The plethora of cichlids scattered throughout the island paradise offer some of the most exquisite and alluring snorkelling found anywhere in the world, and the breath-taking encore of the towering Rift Valley escarpment not only contributes to the majesty of the experience, but also gives home to the profusion of fish eagles that ply their trade along the white, sandy beaches
Boat Trips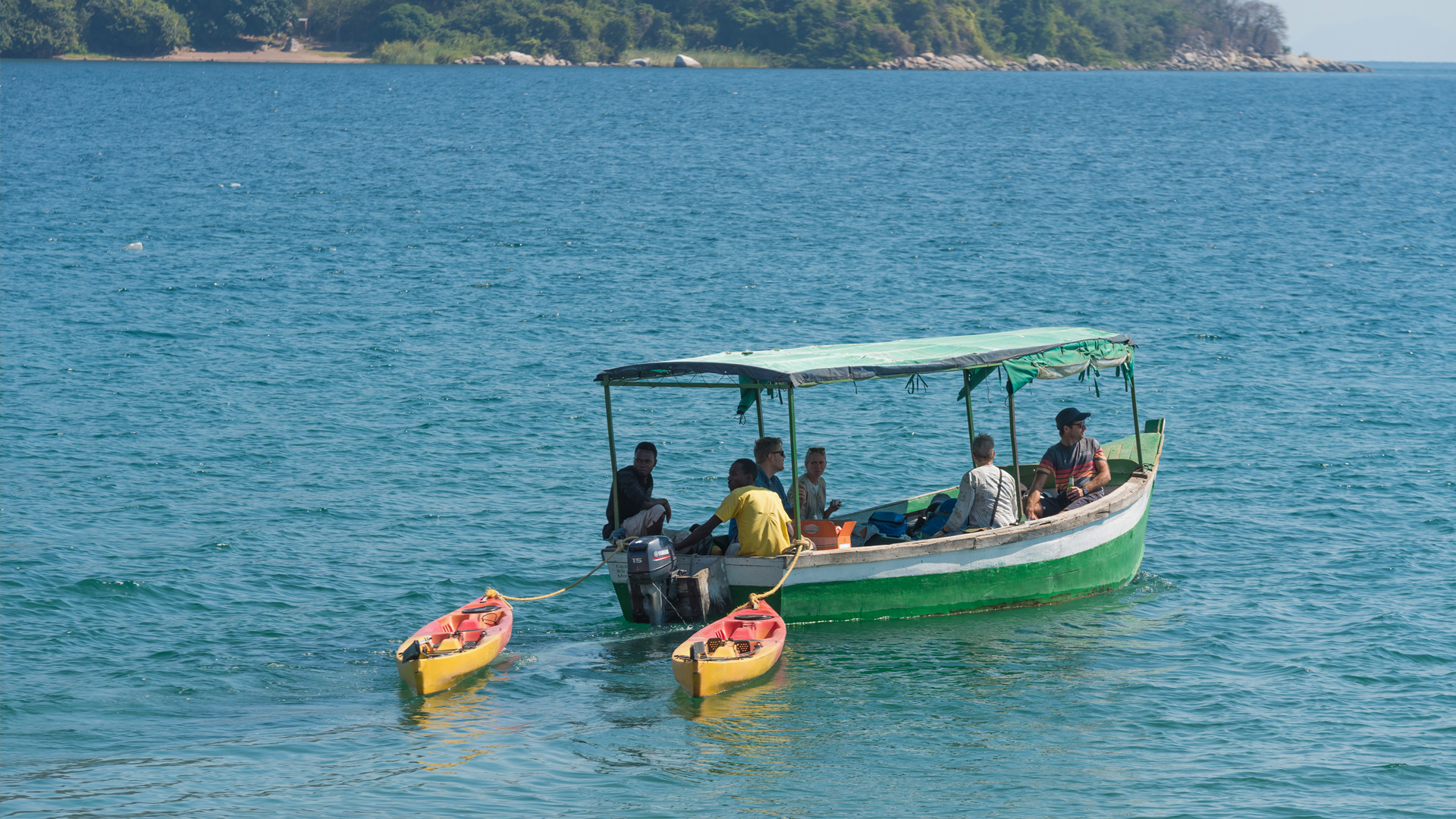 For a simple organised pleasure trip of up to a few hours there is a choice of destinations – places of interest along the shore, or small islands just offshore. Traditional wooden boats or modern fiberglass speed boats are available. Some trips will include snorkelling or fishing along the way.
If only one pleasure trip is to be taken, it should be out to the Lake Malawi National Park.
Brightly coloured fish are easily visible through the crystal clear water, and are eager to swarm round, and feed from, any hand placed in the water holding a piece of bread or biscuit.
Leisurely cruises on larger boats can also be arranged from the main hotels – to last hours or days. Though there are scheduled trips by motor launch, the more interesting are the sailing cruises. Catamarans can be chartered, complete with skipper. Daytime cruising can be complemented by diving, snorkelling or swimming and overnight beach camping. 
Perhaps the ultimate journey on the lake is on the Ilala, a large motorised vessel offering a scheduled ferry service up and down the lake. This is a functional ship much used by local people, but also offers passage and cabin accommodation to tourists. Bookings can be made through the local Tour & Safari Companies
Boat trips are also offered along the upper part of the River Shire, particularly through Liwonde National Park. These are primarily for game viewing and can be extremely successful in this regard as many animals are unperturbed by objects on the water. Boats set out from Liwonde township, heading north, but also from Lake Malawi heading south. Based at The Makokola Retreat, the mv Sunbird is a 22m cruiser which sails along Lake Malawi, past Mangochi, and through Lake Malombe before entering the River Shire in Liwonde National Park.
Kayaking & Sailing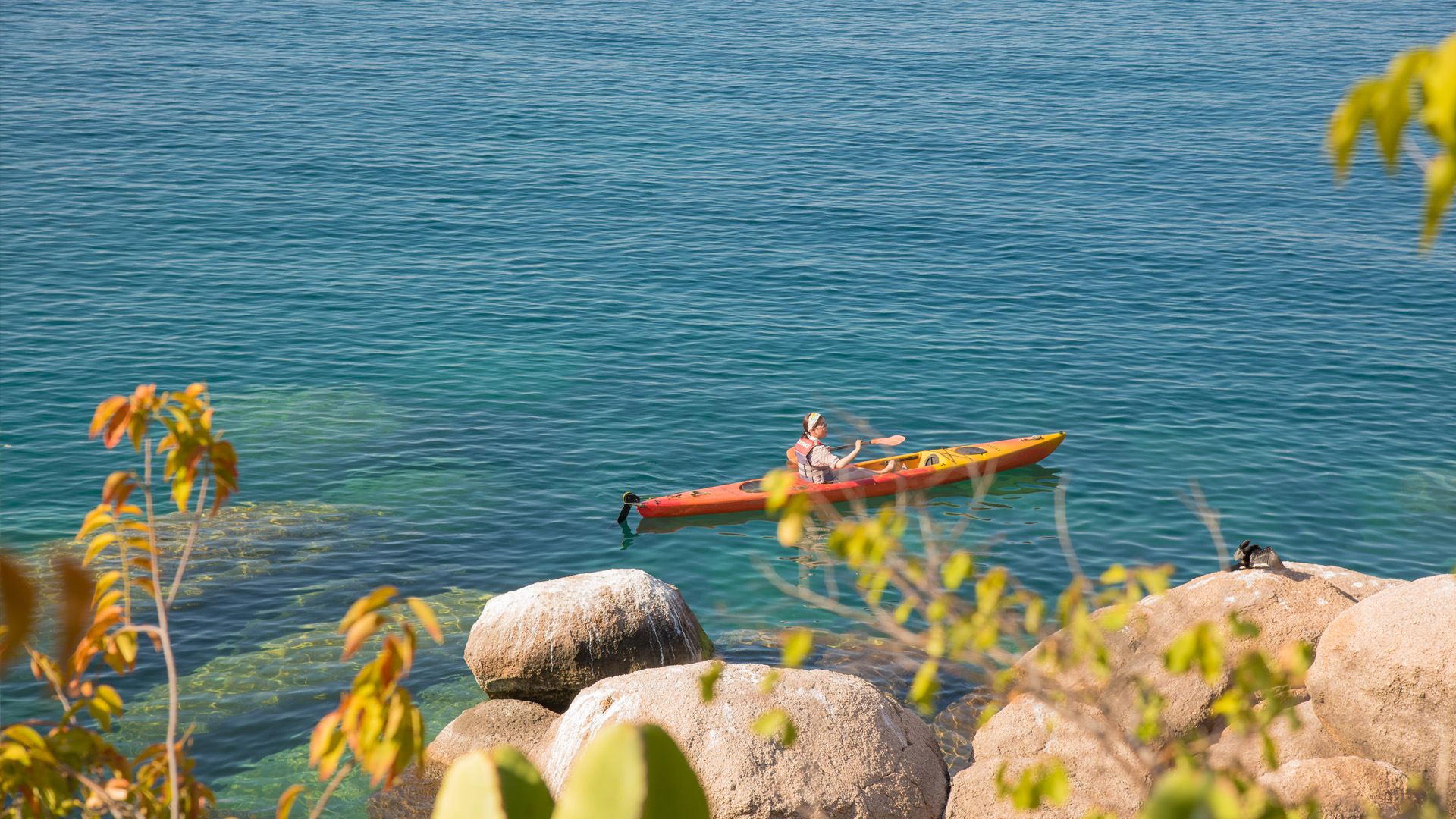 Kayaking and sailing can range from an hour or so on the water to a full kayaking expedition or to living aboard a luxury yacht as it sails the length of the lake.
Kayaking is proving increasingly popular, particularly in the Lake Malawi National Park. Sea-going kayaks are used to paddle to eco-camps on two deserted islands in the park (Mumbo and Domwe). Canoe expeditions are also on offer at Nkwichi Lodge in the Manda Wilderness Community Reserve.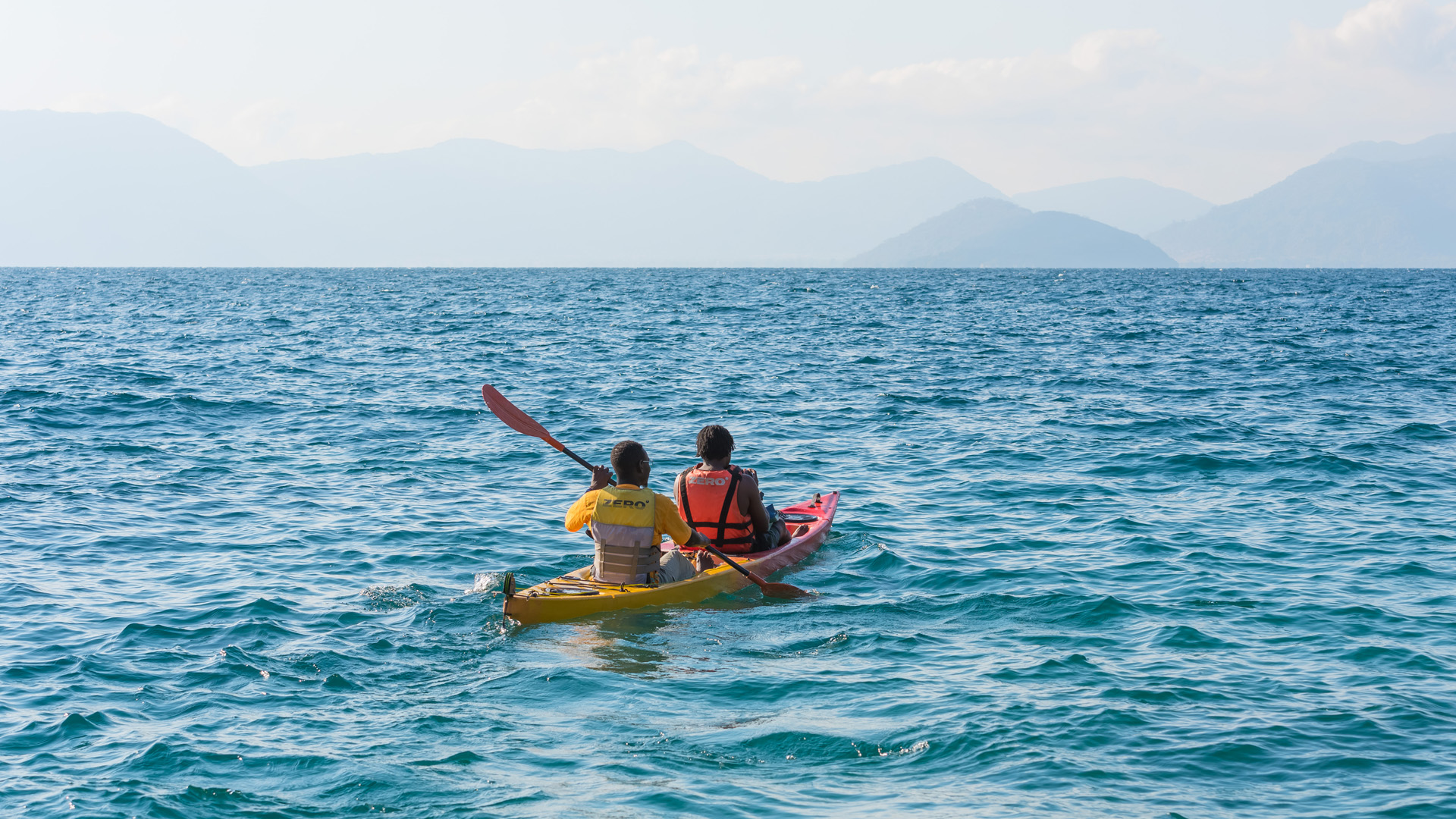 The tide- and current-free waters make for good sailing and small boats are available at most lakeshore lodges. The highlight of the sailing calendar is the Lake Malawi Yachting Marathon every July. This international event consists of a series of daily stages, beginning in the south, and ending some eight days and 560 kilometres (350 miles) later in the north
Likoma Island is actually in Mozambique waters, but is still a Malawian territory. Its home to a huge cathedral built in the early 1900's. Likoma Island has several lovely beaches with two excellent eco-friendly resorts including Kaya Mawa, and some budget accommodation (check out Mango Drift) as well. Likoma is a very peaceful spot and there are just a few cars on the island. You can take some nice walks inland to visit local villages, the local market, or kayak around the island. There's a diving school here as well that offers certification at very good rates. Dance troupes from other islands gather regularly for a "dance-off", which is seriously entertaining. Getting to Likoma is half the fun, especially by boat; the MV Ilala stops here once a week. There are scheduled flights from Lilongwe as well as charters available. Nyassa Air Taxis does make trips to the island time and again.
Snorkelling & Diving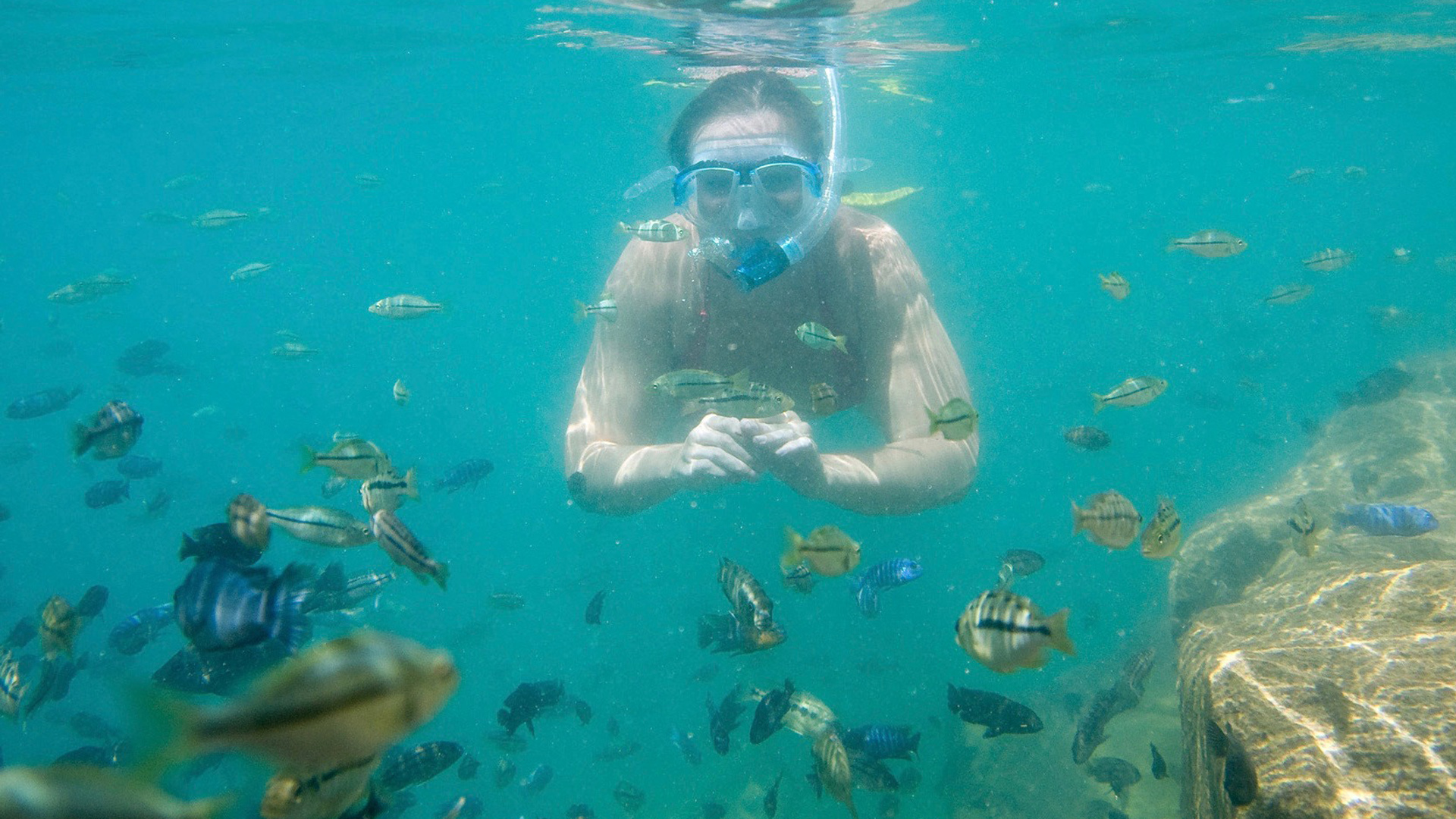 Lake Malawi is famous for its cichlids, popular in the aquarium trade. Within this group of fish we have a subgroup called the tilapiines, locally and more popularly referred to as the Mbuna (pronounced um-boo-na), which means "rock dweller."Mbuna are small and both sexes often show bright coloration, though in many species the females may be brownish overall.
Surrounded by endless palm fringed beaches, Lake Malawi is a gigantic reef tank where you can snorkel and scuba in the clear, warm water and see over 500 indigenous species of tropical fish, including Cichlids. For the fishing keeping enthusiast, the lake is one of the few places in the world where one can observe the fishes they collect in their natural habitat.
Lake Malawi National Park at the southern end of the lake was established to protect the unique diversity of the tropical fish, some not found anywhere else on earth. The Nankhumba Peninsula, forms the centerpiece of a miniature archipelago of twelve islands, and encompasses Cape Maclear, where visitors are in easy range of a number of legendary dive sites where for scuba and snorkelling.
Divers and snorkelers can't believe the variety of fish they encounter and how close they get to them. You almost have to push them away to take pictures. You will be knocked out by how much more dazzling and vivid their bright colors appear when they are right in front of your nose.
Visibility can reach 30m at the best times of year (August to December). Even simple snorkelling gives good results in the right places. Swimming with the fish is a favourite pastime in Lake Malawi.
It's possible to dive at Kaya Mawa and Mango Drift on Likoma Island and Danforth Yachting and Mumbo & Domwe Island camps at the Lake Malawi National Park (Cape Maclear). One to six day courses are available with professional tuition and PADI or NAUI certification. Alternatively, sailing tours can be taken to incorporate day or night dives.
Though equipment is available for hire it is best to bring your own mask, snorkel and flippers. A 3mm wetsuit is recommended for the 22°C – 27°C waters. The lake's altitude of 474m above sea level will require appropriate adjustment of decompression tables.
Water Skiing
Thankfully, Lake Malawi is not awash with speedboats, but at some of the lodges it is possible to water-ski. Where this is available, there are also sometimes a variety of other objects that guests can sit or stand on whilst being dragged behind a boat!
Sailboarding
Most of the lakeshore lodges will have a sailboard or two for guests to use. Winds are rarely very high, but with the size of the lake, there will always be a breeze.
Swimming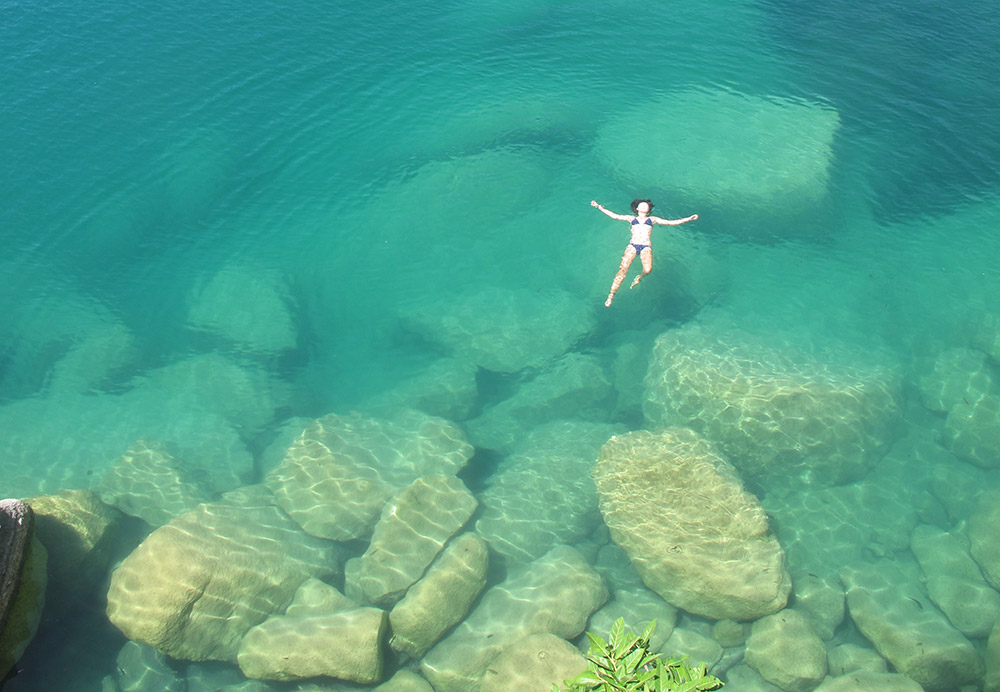 Is swimming in Lake Malawi safe? That could be the question we all asking ourselves. Personally, I would say YES and also No at the same time. This is because there are things you need to consider before jumping into the lake or even at times the rivers.
Lake Malawi used to be one of the only lakes in Africa where you could swim in the knowledge that there were no problems with bilharzia, however now there are reports of cases of this problem being contracted out there.
Bilharzia, or schistosomiasis as it is known medically, is an illness caused by a nasty little worm. Like a lot of parasites it needs a host to lay their eggs in, which unfortunately is us, and then another intermediary vector for the young worms to grow in before completing the cycle and reinfecting humans again. In the case of the bilharzia worm the other vector is a freshwater snail that lives in the reeds and grasses beside African lakes. It is in these areas that we can get infected, when walking barefoot through, or swimming close to the lakeside.
The worm can penetrate our skin and then goes to lay its eggs in the liver, bladder or blood supply to both. Symptoms can range from feeling mildly unwell, through to passing of blood on urination or even liver failure in the later stages. But before you worry too much, it is very easy to diagnose and easy to treat too. It is possible to pick up the infection before the eggs have been laid by a simple blood test, and the treatment is a day's worth of tablets called praziquantel. You can try to prevent the worm from coming into contact with you by either swimming farther out in the lake, from a boat for example, and also by wearing protective shoes if you are wading through the reeds.
There are some parts of the Lake that seem to be more affected than others. If you staying at a hotel or lodge please always ask before swimming. The local people are always aware of the dangers of the waters near them, ask them as well to be safe. The second thing is crocodiles and hippos. Shire River has lots of crocodiles and hippos and you are advised never to swim there. As you go game viewing in the boat do not drag your hand through the water to keep it cool, do not swim in the lake areas where even you've been told that its safe at night, do not wash your clothes on the banks of the river, so not brush your teeth along the river and lastly remember hippos do come out at night to eat grass so be careful not find yourself in between the hippos and their young ones.
Be safe, healthy and enjoy swimming in Malawi.
​
Tags